Old Forest Soul of the Week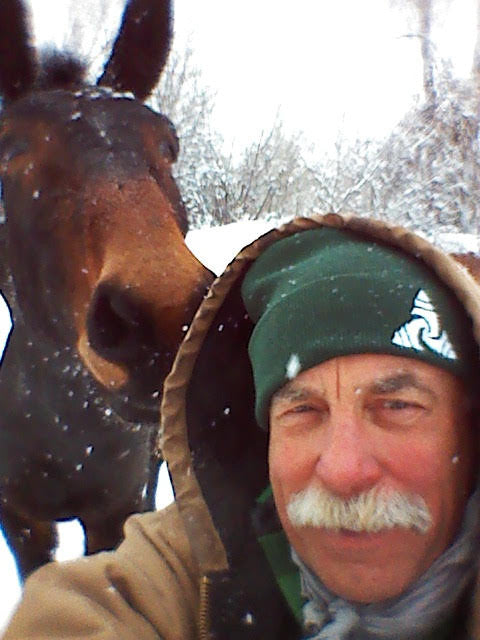 I came by my passion to build the Forest Souls community and honestly, one of my main sources of inspiration was my grandfather, Tom Heintz, on my mother's side who has lived his life as a conservationist.  I was raised with these values.  My grandfather's vocation and advocation are one in the same.  He works as a horseback outfitter/guide educator in the back country of the Greater Yellowstone area.  For many years he served on the Montana Wilderness Association's council and was a strong advocate for the preservation of wildlands. He fought development in critical grizzly bear habitat.  During his lifetime he made five trips to Washington D.C. as citizen lobbyist to advocate for the designation of wilderness areas in Montana, and sometimes packed political decision makers back into these areas so they could see for themselves the importance of protecting these irreplaceable treasures.  My grandfather owns a business called Medicine Lake Outfitters -  www.packtrips.com and they have been host the Yellowstone region's visitors for the past forty three years which is just pretty incredible!
It's such a great honor to have my grandfather featured as Old Forest Soul of the Week! 
What inspires you to be part of nature?
There is magic in time spent in nature… experiencing solitude in untrammeled wild places, observing in awe the magnificence and mystery of my countless animal and plant relatives. For me, immersing myself in the beauty of creation's original masterpiece produces 'here and now' presence, quiets my mind, and makes me joyful and appreciative for another day of life. At the same time observing the natural world humbles me… seeing that all life on this planet draw its sustenance from the earth… and fully understanding that she is a benign, patient, living being who I owe the responsibility of 'right action' to.
What is your favorite tree and why? 
Probably the Cottonwood.  Much of Montana east of the great divide is made up of prairie and rolling hill grasslands.  The rivers and streams here are lined with Cottonwood. These trees break the wind and provide cover for livestock and wildlife alike.  Montana's Cottonwood forests are home to hundreds of species of western birds, and in particular, cavity nesters.  The limbs are dense grained and make excellent firewood.  This was the primary wood used by Native Americans in the open fire of their tipis because it put off a lot of heat and didn't throw sparks.  I mill the trees the wind blows down and use the wood for things like siding on my hay sheds and treads on my footbridges.  Mostly I like Cottonwood because it contributes to my sense of well-being and happiness just walking among the trees when I do chores every day.  I count myself luck to have so many of these beautiful trees here on my ranch along the Gallatin River.  Some were growing here when the Lewis & Clark expedition explored the river in 1805.  They are huge, gnarly old grandfather trees still standing, witness to hundreds of years of western history. 
My grandfather sent me this wondrous photo of him and one of his adorable mules along with snowed trees in the background saying, "I love the Forest Souls beanie.  In my vocation as horseback guide I sleep under the stars or in a tent on average about 120 nights out of the year.  The beanie keeps my head warm when I am in my sleeping bag.  It is comfortable, doesn't itch, retains its shape and stays on.  I have never found a cap that works as well."  

Thank you, my dear grandfather, for all you did and continue contributing to nature especially your love for Cottonwood trees! 

#forestsouls #oldforestsouloftheweek
---
---