Forest Soul of the Week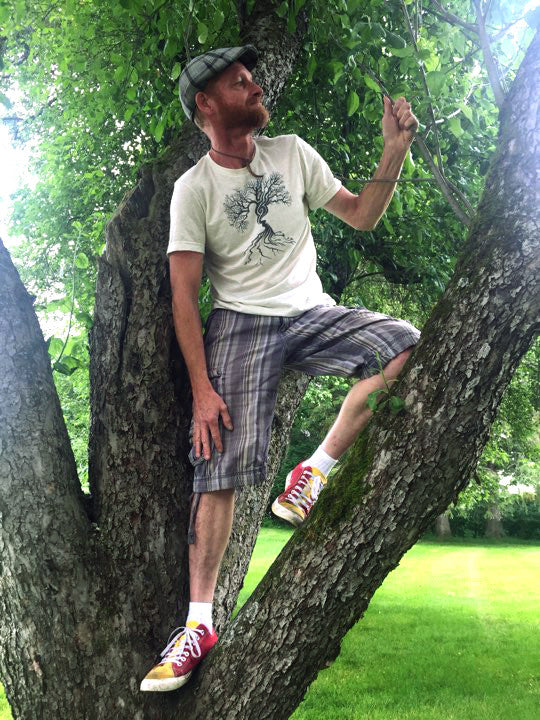 Say what's up to our newest Forest Souls customer, Kurt Ramborger the IRISH Chef, located in D.C.!  Four trees have been planted through his purchases; a Old Soul T-Shirt for himself and a Sacred Tree pillow gift he got for his daughter, Malvana, for her high school graduation! Awesome pappy, isn't he?!  Speaking of dad, happy Father's Day to all fathers out there!  

What has inspired you to be part of Nature?  "Nature are everywhere. I've always been part of nature since cometh out on our Mother Earth 'cause everywhere mo feet goeth, nature always surround our souls with or without thy conscience minds. Grew up goin' to camping, hiking, backpacking, cross-country roads, water events, and campfires. There's always a serenity of the feelin' surrounded by plants, forests, rivers, rocks, sands, wildlife, and air breeze upon mo face. May it be concrete jungles or forests, they always hath 5 elements within us: Water, Air, Earth, Fire, and Soul. They exist, hence-fore we live and breathe with nature." He answered.

What is your favorite tree and why?  "Oak tree. 'Em are King of trees! Just 'cause of their endurance and longevity. 'Tis also well known of Irish traditional, 'Tree of Life'. Many ancient country revered Oak as the holy tree because of many purposes they provide are the shades, defy the gravity of branches, shelter the wildlife, timber fer homes and furniture including weapons!  Also, the best truffles are often found under Oak trees, acorns for food, cork fer wine bottles, wine/whisky barrels, and even with a kiss of love under the mistletoe! There's approximately 600 different Oak species. Mo fave species are White and Live Oak because their leaves are so beautifully symmetrical shape with either curvature or spike. Their foliage may be evergreen or change of seasons. More often than not, the iconic picture of Green Man contains Oak leaves around his face. Dat's why Mo sweet Irish soul always give so much respect and love for mo King of tree; Oak."  He grinned cheerfully. 

Again, congratulations on being featured as Forest Soul of the Week!  Thank you for all your support and sharing your love for trees with us! 


Photo Credit: Kurt's sister, Heidi Branch.

#forestsouls #forestsoulsoftheweek
---
---